Research
The research of the Spectroscopy group at the Institute of Chemistry involves applications as well as method development in the field of high-resolution NMR spectroscopy. In particular we work on the structure elucidation of proteins, for example the toxin-antitoxin (TA) system ccd. The structure of the antitoxin CcdA was recently solved by us: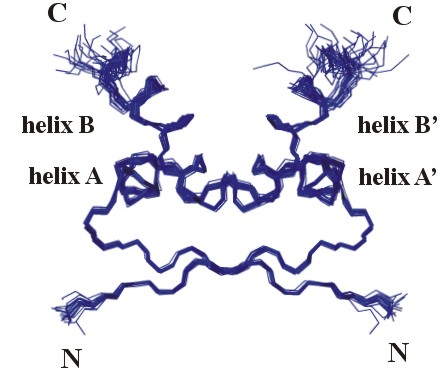 Furthermore we work on the structure determination of peptides bound to membrane-mimetic systems. The most common membrane replacements are micelles. Besides standard methods for structure determination we also utilized paramagnetic surface probes to determine the insertion depth of such peptides into the micelle. using this method we determined the structures as well as orientation of the antibacterial peptides bombinin H2 and H4 from the European frog:
Contact
Groupleader
Heinrichstrasse 28
8010 Graz
Prof. Dr.
Klaus
Zangger
Contact
Contact
Heinrichstrasse 28 - Keller
8010 Graz
Ing.
Bernd
Werner
Hand-in samples between
Mon. - Thurs. 7:25- 15:25 Uhr
Fr. 7:25 - 14:25 Uhr